Technical and useful information on types of lenses
that we mount in our sunglasses of natural wood and Mixed, Root Sunglasses.
Polarization:
Polarization is a filter carried by some lenses that allows filtering direct rays reducing glare and improving vision. They are good for environments with many brightness such as maritime environments, snow, etc., however, they can make it difficult to see according to electronic device screens such as some mobile phones and other screens of different devices.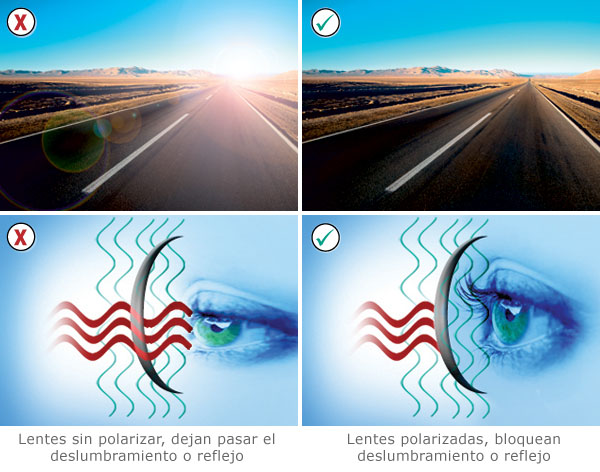 Our sunglasses with TAC lenses are Polarized. Among the advantages of polarized lenses are the following:
Total protection against ultraviolet rays (98%)
Greater contrast and sharpness
Absence of reflections
Natural colors
Reduction of ocular fatigue
REVO Coverage
The multi-layer REVO coating is also called Iridium which provides the "mirror" effect that has been designed to eliminate harmful rays and provide eye protection far superior to the normal mirror coating (MIRROR). They provide the same vision whether they are used day or night.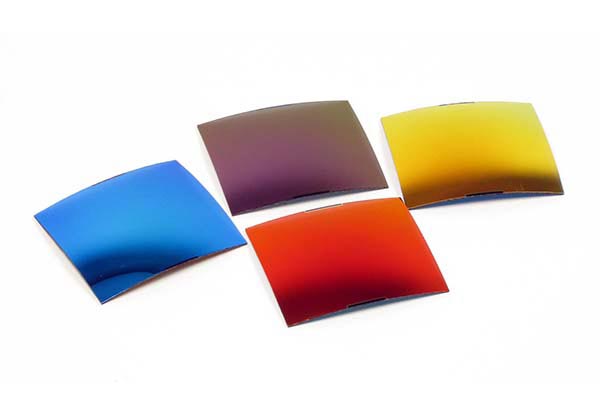 The REVO coating is made layer by layer and after the treatment the lenses acquire a changing mirroring color depending on the amount of light and how it affects it. REVO coverage provides a very fashionable mirrored effect these days but this type of lens requires special care to avoid wear or detachment of the cover that will make the lenses get ugly. Avoid abrasion and excessive exposure to chemical agents, seawater, chlorine, dust, sand etc. Always wash them with fresh water in case of exposure to these agents and avoid rubbing insistently when cleaning them, following these simple instructions your mirrored lenses will last much longer while maintaining their original color.
Hydrophobic Coverage
Our lenses have a hydrophobic coating that provide extra protection.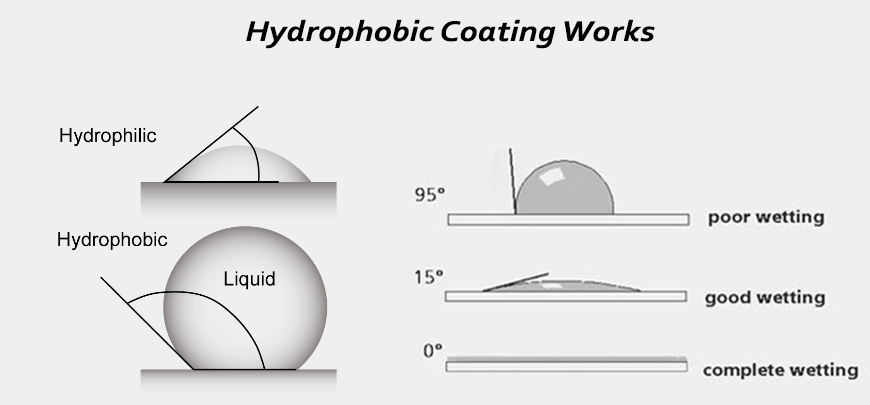 These some of the benefits of lenses with hydrophobic coverage:
Anything based on water, especially when sweat comes in contact with the lens, is likely to create drops as shown in the image above, which tends to form optical distortion. A hydrophobic coating helps repel water droplets from the lens surface since the stiffness between the liquid and the hydrophobic exterior is less.
Hydrophobic coated lenses are also antistatic and help keep dust and dirt particles away. When such particles come into contact with these lenses, they are likely to simply fall out.
Hydrophobic coatings also require less cleaning than normal ones, as they help repel stains and grease from our fingers. In this way, cleaning the lenses is much faster.
TYPES OF LENS MOUNTED IN THE ROOT SUNGLASSES: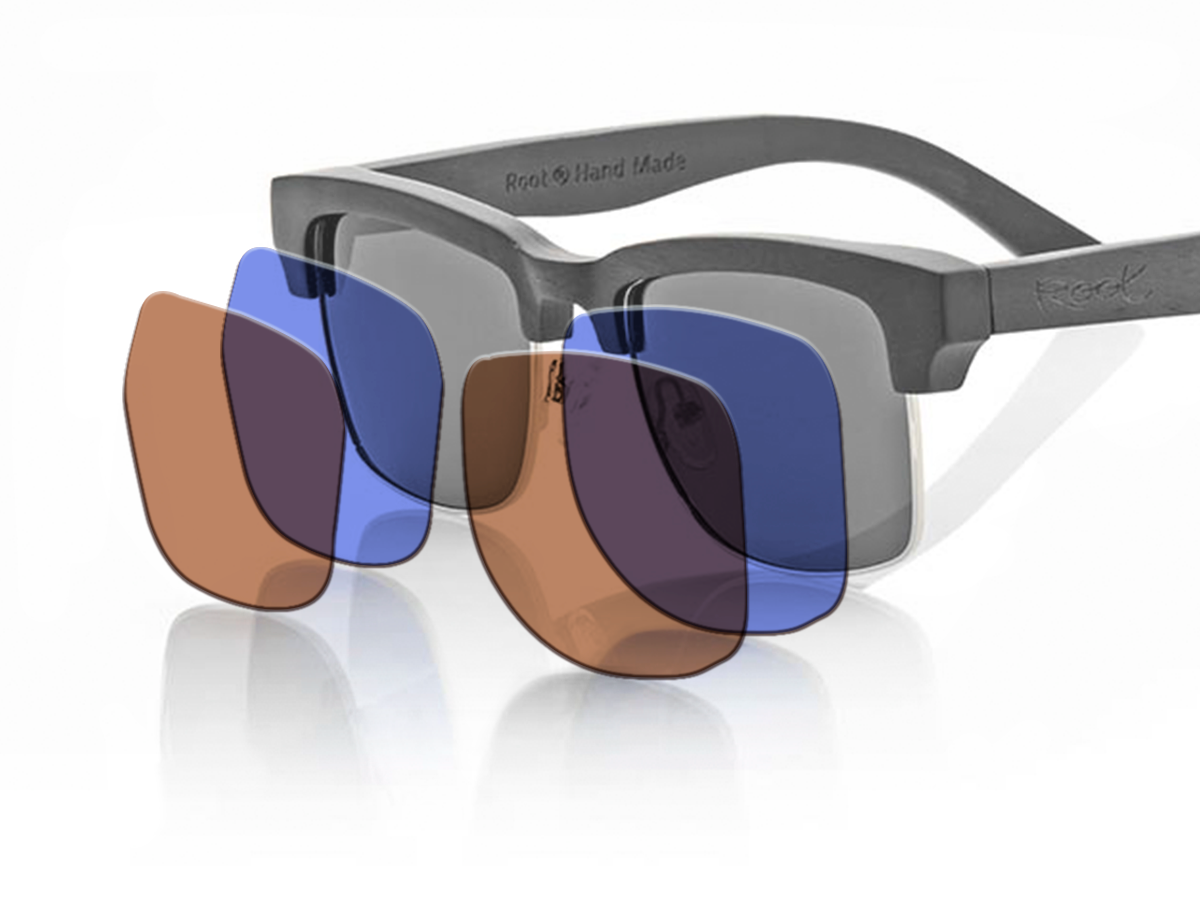 TAC UV400 lenses
These are new technology lenses of Triacetate Cellulose - polarized TAC of 1.1mm of thickness, category 3, base 4.5 with a light transmittance for the standard lenses that come mounted in our glasses of 14% (available as an option) lenses of all types and colors in various transmittances) that provide clear vision and eliminate 98% of harmful ultraviolet rays up to 400 nanometers. These new technology lenses are very light which increases the comfort of its user by avoiding pressure in the nose caused by weight and suitable for sunglasses used in urban and sports environments. We mount this type of lenses in solid colors, gradients or with REVO coverage
Lenses CR39 UV300
CR39 lenses are very similar to "glass" lenses in terms of weight properties and hardness. Being thicker and heavier than the TAC lenses have a superior quality to these with greater resistance to scratching and breakage with UVA 300 protection. We mount this type of lenses in its version of solid or gradient colors in some models our glasses by the quality and aesthetic value that they provide.
PC UV400 lenses
The PC lenses are made of Polycarbonate, a very resistant material and are very similar to the "TAC" lenses being thicker than the latter having the same degree of protection as the TAC UV400 lenses filtering 98% of the ultraviolet rays. thicker and somewhat heavier than the TAC lenses we mount this type of lenses in its version of solid colors with REVO coverage or gradients in some models with open frames or where the lens occupies a large part of the front to improve comfort and lightness and for its most consistent characteristics. .
NYLON UV400 lenses
The Nylon lenses are very resistant being still finer light and flexible than the "TAC" lenses having the same degree of protection against ultraviolet rays as the latter (UV400) filtering 98% of the ultraviolet rays. They are suitable for the latest models of glasses where the lens occupies a large part or the total of the front of the same so that the result is a light and comfortable glasses.
Downloads: Technical document about our lenses
Lens replacement service:
Whether you would like to have a model of Root glasses with a specific lens color that does not come by default in your favorite glasses, as if you already have a Root glasses whose lenses are damaged or you want to give a new look to your glasses with a pair of different lenses, Root Sunglasses offers a replacement service for lenses of solid colors, gradient colors or with REVO coverage for both new glasses and used glasses. More information in the following links:
The lenses are the most delicate element of sunglasses. Our UV400 TAC lenses filter 98% of UVA rays, have a thickness of 1.1mm and are Polarized allowing you to enjoy a vision with less reflections and vibrant colors. With your Root natural wood glasses you will receive an appropriate microfiber suede to clean both the neutral colored lenses (brown and gray) and the REVO mirror or CR39 lenses as well as a jute bag to protect your glasses when you do not use them. In urban environments you can use microfiber suede to clean the lenses by gently rubbing both sides.If you have been on the beach or in dusty environments, we recommend putting the glasses first under running water or immersing them and shaking in the sink to remove grains of sand or dust that are abrasive and would scratch your lenses when rubbing with suede Never use cleaning products to clean the mirrored lenses. These chemicals could damage the cover. We do not recommend bathing with them in swimming pools or in the sea since chemicals such as chlorine or seawater may contain very aggressive and may deteriorate the coverage. lens mirroring on models with REVO lenses.
Scratches on a neutral lens (gray or brown) will be clearly shown as a line or a point of a lighter color than the lens itself, on mirror lenses these scratches or stings will be shown as a black dot or line that can be confused with a speck of dust or a stain, in no case rub insistently or using cleaning products of any kind because in these lenses you will only be able to remove the mirrored lens cover, aggravating the problem.
Puntúa el contenido de esta entrada