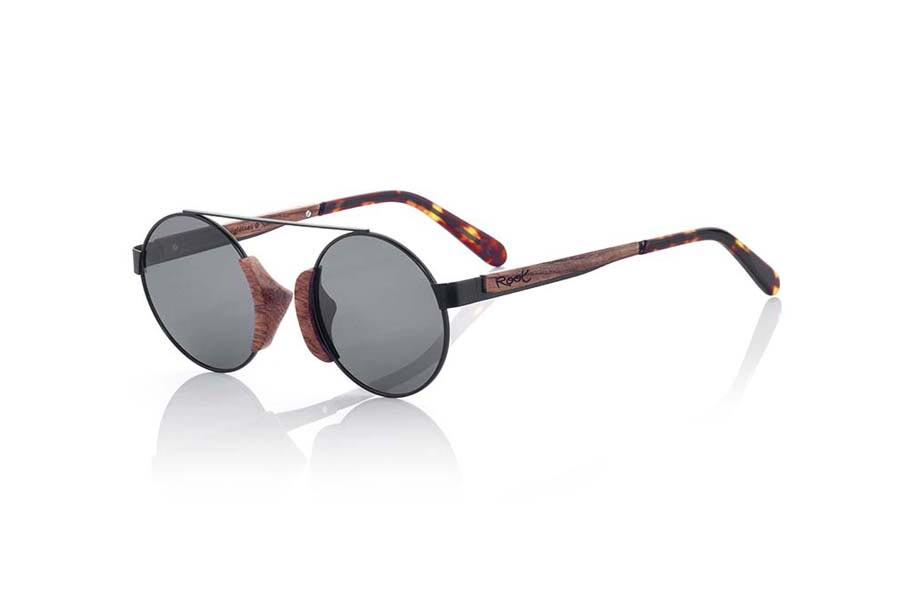 MADERA DE PALISANDRO NATURAL
Ref. GFRY24
Varias Lentes.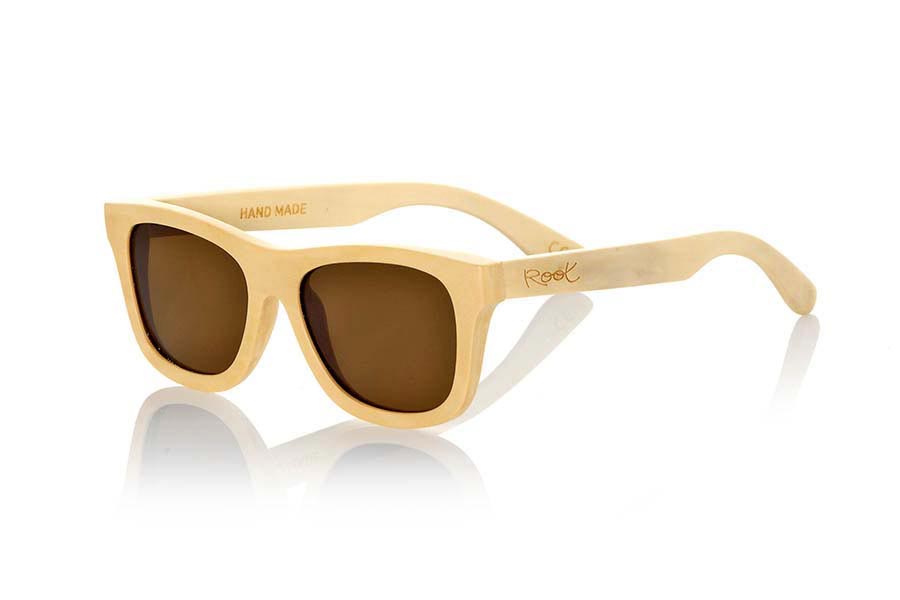 MADERA WHITEWOOD NATURAL
Ref. GFBU37
Varias Lentes.
MADERA DE ROBLE NATURAL
Ref. GFBU02
Varias Lentes. Tallas: Normal, Pequeña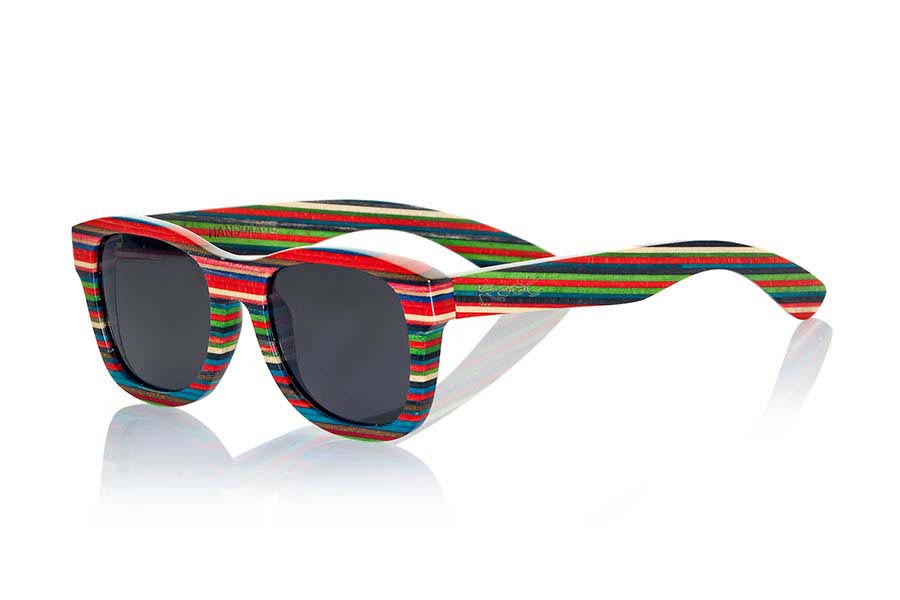 MADERA DE ARCE LAMINADO 9 CAPAS
Ref. GFBU32
Varias Lentes.
MADERA DE NOGAL NEGRO NATURAL
Ref. GFRY08
Varias Lentes.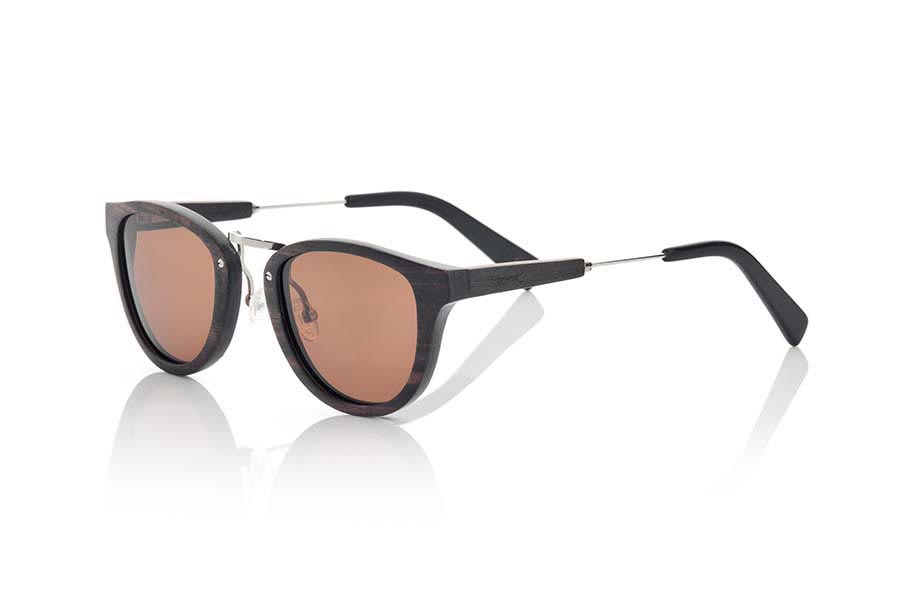 MADERA DE ÉBANO NATURAL
Ref. GFBW03
Varias Lentes.
MADERA ZEBRA Y ARCE NATURAL
Ref. gfjm02
Varias Lentes.
MADERA DE MPINGO Y ARCE
Ref. GFRY38
Varias Lentes.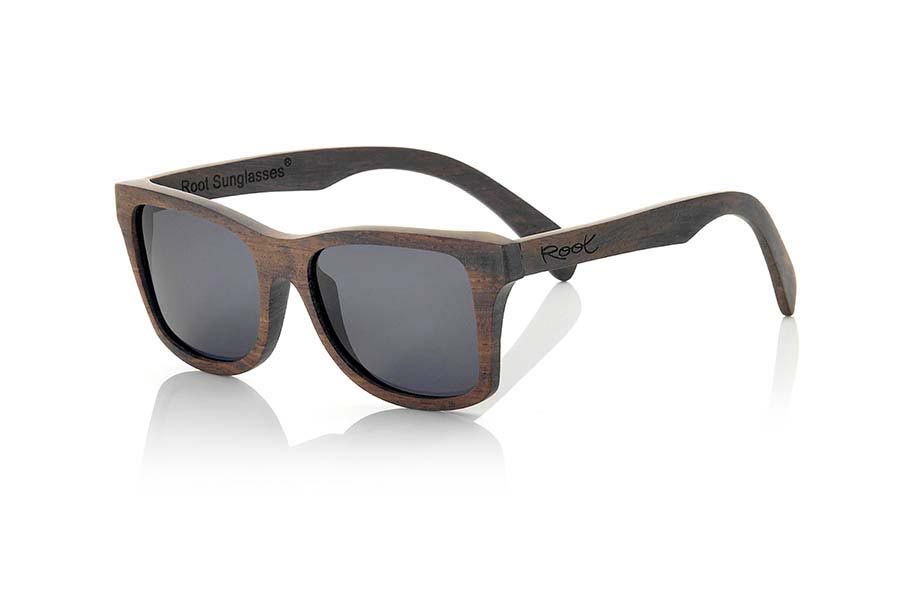 MADERA DE MONZO NATURAL
Ref. GFBU46
Varias Lentes.
MADERA DE PADAUK NATURAL
Ref. GFBU55
Varias Lentes.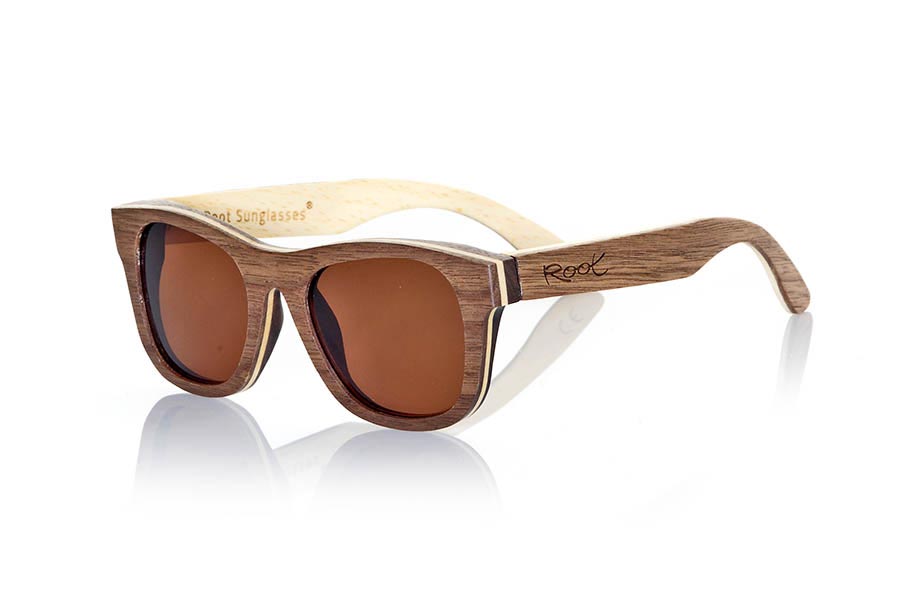 MADERA DE NOGAL Y ARCE NATURAL
Ref. GFJM03
Varias Lentes.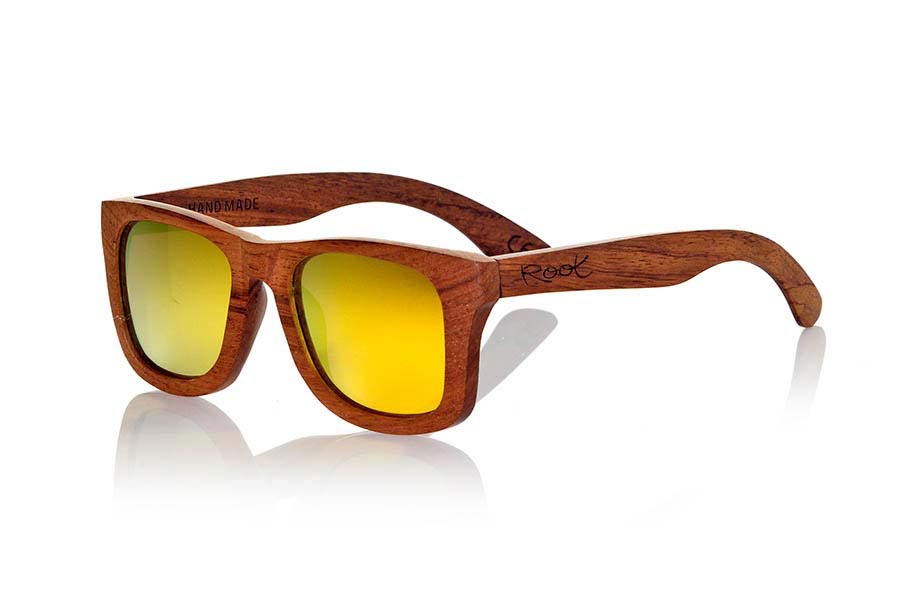 MADERA DE BUBINGA NATURAL
Ref. GFJM01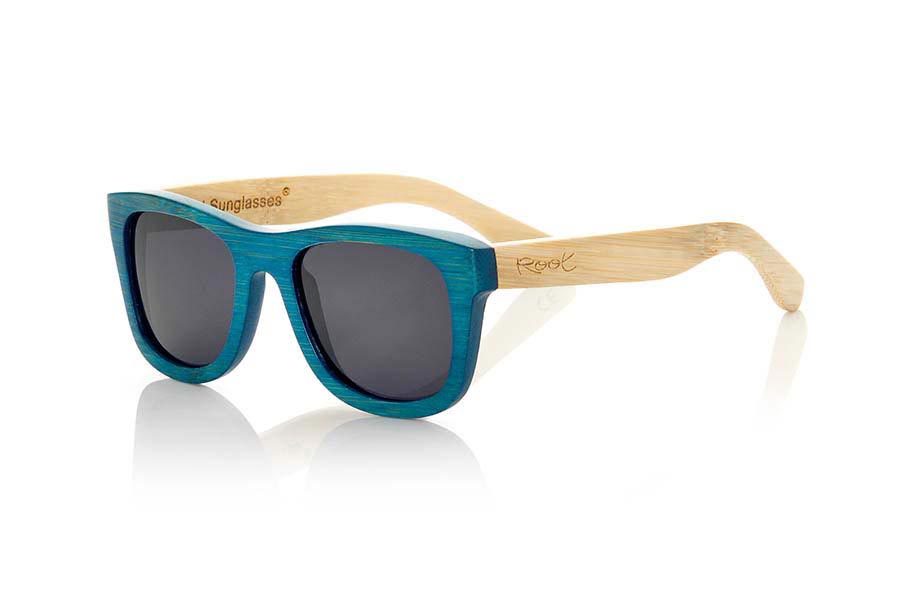 MADE OF BAMBOO WOOD DYED DUO
Ref. GFBU17-A
Varias Lentes. Tallas: Mini, Normal
Our glasses are handcrafted with organic materials such as the natural wood which guarantees sustainability in the process of completely handmade and natural production without the presence of chemicals such as when passing to a better life, the wood is a naturally biodegradable and recyclable material.
In this article we will describe the different types of wood whose qualities and beauty features selected and used in the manufacturing process of our sunglasses natural wood with their scientific names and origins of the same.
Woods used in our sunglasses
Bamboo ( Bambusa) Asia. Since ancient times, bamboo has been used as building material. Very low birth weight resistance and hardness exceeds woods such as oak, which is why it is also known as vegetable steel. Bamboo comes from a grass that grows in Asia, Central America and Africa. No need replanting, and that flows naturally each año.Por its features is suitable for use dyes with which several of our models dress Root. Our bamboo float glasses.
Sunglasses made from natural bamboo Root:
Rosewood (Pterocarpus indicus - Narra) Asia. It is a large deciduous tree growing to 30-40 m tall, with a trunk up to 2 m diámetro.La reddish wood is resistant to termites and smelling of roses. It is used for decoration and furniture making and keys on a marimba. The flower is used as a source of honey, while the infusion of leaves are used as shampoos. Both the flowers and the hojaspueden be eaten.
Sunglasses Rosewood Natural Wood Root
Whitewood (Picea Abies). Europe. It is a large evergreen conifer that reaches a height of 30-50 m and a trunk diameter of 1 to 1.5 m. The characteristic of this spruce is its pyramidal, very regular glass. You can reach 70 m in height. In many countries of northern Europe is considered the typical Christmas fir. It is prized gardening, timber, bright, very workable and fine finish is ideal for cabinetry or for making musical instruments, the famous Stradivarius violins were made ??of this type of tree.
Sunglasses Natural wood Whitewood Root:
Oak ( Quercus rubra) America. It is a tree that grows straight and tall, reaching 35 m in height. The fruits are acorns of red-brown about 2 cm wide, flat dome with scales covering only the base of the gland. It grows quickly and is tolerant of many soil and varied situations. The wood is pale brown, heavy, hard and strong red, is used for furniture, also used in construction and interior finishing of houses.
Sunglasses Natural Oak Wood Root
Wood skateboard This leaves maple plywood marine grade of about 1.5mm joined together forming patterns of different color combinations. Widely used in the manufacture of objects that require endurance, flexibility, and high resistance to moisture, such as skateboard tables from top brands.
Sunglasses Wood Skateboard Root:
Walnut (Juglans regia) Asia. Considered the finest hardwoods, walnut is the favorite for fine dark wood furniture and interiors. The color ranges from light brown to dark chocolate brown, occasionally with a purple shading and darker knots. The wood grain is generally straight, but sometimes shows wavy streaks or deformations that produce attractive and decorative designs.
Sunglasses Natural Walnut Wood Root
Ebony ( Diospyros celebica ) Asia. Ebony has an attractive dark brown with black streaks, which are predominant and their appearance can be almost black or lighter. The utlizada variety is found in Asia. Wood is streaky brown and black, usually in wide stripes, often with cracks and knots. Valuable wood joinery and carpentry work is considered. Being a wooden loved by everyone cabinetmakers world today is an expensive wood, one of the most expensive in the world.
Sunglasses Ébanode Natural Wood Root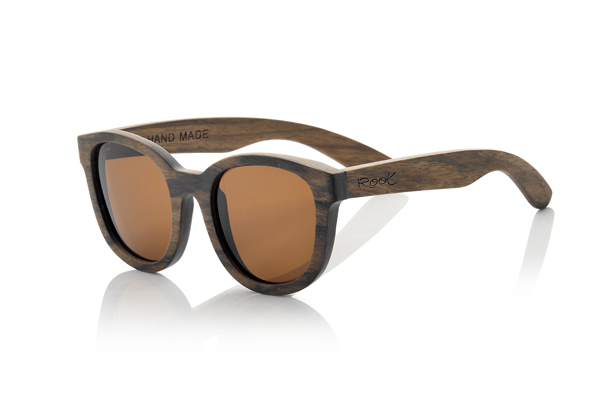 Zebra - Zebrano ( Microberlinia) Asia. The heartwood is golden yellow, distinct from very pale sapwood and narrow streaks of dark brown to black pale features. Zebrawood may also have a pale brown with regular or irregular dark brown marks in different widths. It is a heavy and hard wood. The interlocked grain of this wood can make it difficult to work. It is a decorative exotic wood, usually used for veneer, wall panels, furniture, chairs, marquetry, specialty items. In the past, it was used in Cadillac and Mercedes - Benz cars.Because of its hardness, it can also be used for skis and tool handles.
Sunglasses Zebra Natural Wood Root
Monzo (Combretum beardless) Africa. Heartwood reddish brown to dark brown; the color darkens with age. Pale yellow sapwood usually has no knots or irregularities. It is a very hard wood which makes it difficult to work. Without a characteristic odor is a wood used in furniture and carvings small objects
Sunglasses of Monzo Natural Wood by Root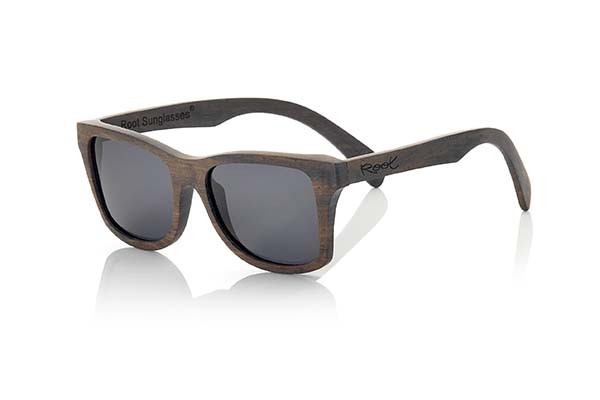 Mpingo (Dalbergia melanoxylon) Africa. Very hard often completely black, with little or no discernible grain wood. Occasionally a little lighter, with a brown or dark purple hue. The pale yellow sapwood is usually very thin, and is clearly demarcated from the darker heartwood. Very hard to work with hand tools or machines. It is considered as one of the best wood turning for its ability to intricate details, said threads maintaining nearly as well as metal. Commonly used in musical instruments (guitars, clarinets, oboes, etc.), inlay, carving, tool handles and other objects turned.
Sunglasses of Mpingo Natural Wood by Root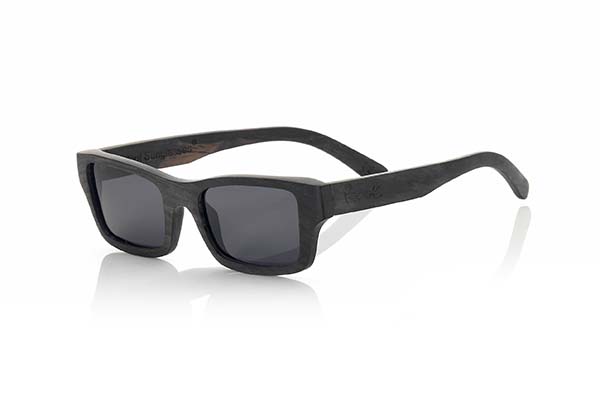 Jimichu (Senna Siamea) Asia. Also called Chicken-Wing. The heartwood is medium brown to dark brown, almost black, with stripes of lighter brown contrast, sometimes with a red or yellow. Classified as hardwood gives relatively good working it with hand tools and machines results, although it has a high shear strength. Commonly used in musical instruments (ukuleles and guitars), sculptures and other items of small specialized wood.
Sunglasses of Jimichu Natural Wood by Root
Padauk (Pterocarpus soyauxii) Africa. The heartwood can vary from a pale pinkish orange to deep red brown. Most of the pieces tend to start reddish orange when freshly cut, darkening substantially over time to a reddish / purple brown. It has excellent resistance to rot, and is classified as resistant very durable. Overall it is an easy wood to work. Musical instruments commonly used in furniture hand tools and other specialized items
Sunglasses of Padauk Natural Wood by Root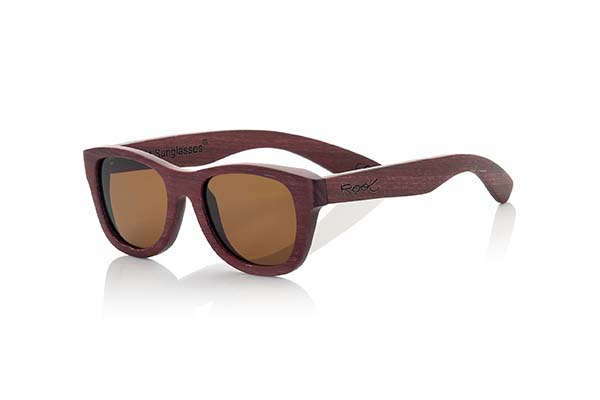 Hard Maple (Acer saccharum) América. Unlike most other hardwoods, the sapwood of hard maple is most commonly used instead heartwood. The color of the sapwood varies from almost white to cream or yellowish white, sometimes with a reddish hue or gold-tone. Fairly easy to work with both hand and machine tools, although a little harder than maple soft due to the higher density of hard maple. In Root utlizamos maple wood laminates to create the patterns in combination with other woods.
Sunglasses of Maple Natural Wood by Root
Bubinga (Guibourtia spp) Africa. The heartwood is a pinkish red to dark red-brown with darker stripes of purple or black color. The sapwood is pale straw color and is clearly demarcated from the heartwood. The hardness varies from moderately hard to very hard, depending on the species. Generally easy to work. Bubinga is immensely popular for its strength and beauty.
Bubinga has a strong resemblance to rosewood, and is often used instead of the more expensive woods. However, Bubinga also features an impressive grained wood that make this truly unique. Bubinga also has exceptional strength to weight ratio.
Gafas de sol de madera Natural de BUBINGA de Root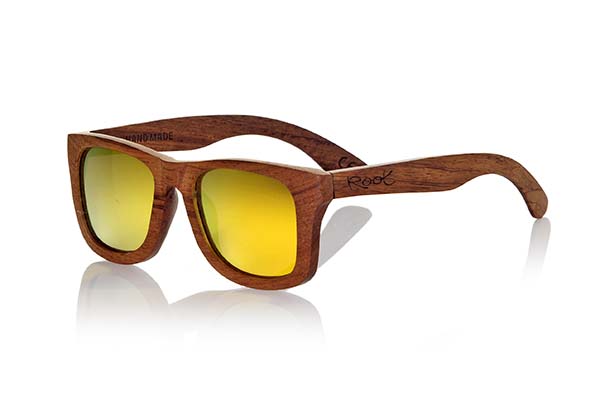 The survival of plants and trees from which the wood used in our glasses in no way threatened or protected. I recommend you visit the website of CITES ( Convention on International Trade in Endangered Species of Wild Fauna and Flora s) using the scientific name of the species that we show.
From Root sunglasses recommend a responsible purchasing wood products and other furniture, decorative items or other checking that the species from which comes the raw material is not protected, avoiding otherwise acquire and denouncing those responsible for marketing recommend . Only in this way can we continue to enjoy these beautiful and natural quality materials.
This entry is updated regularly.
ROOT Wooden sunglasses
C/ Bailén 44, 11380 tarifa - Cádiz spain
Tel +34 956680448