Time and a Natural Look.
The importance of green
After a year so chaotic and full of surprises for us, we realized even more than ever the need of human beings to create and maintain a healthy environment and environment for all.
In times of pandemic we are being subjected to endless precautions that despite perhaps being the healthiest for humans, this pandemic is helping to immensely damage the ecosystem that surrounds us, the constant use of protections such as masks, gloves, handkerchiefs, disinfectants, and other chemicals needed for cleaning, overwhelmed our surroundings in ways never seen before.
Despite knowing that it is best for everyone, it is impossible not to be concerned about restrictions that did not affect us before. Outings, meetings, parties, have become a privilege, being with our loved ones, friends and family has become a strangeness. A new reality has taken over the world, what we believed normal and common, has become a unique event.
Now more than ever, after an extended period of confinement, we can appreciate the true beauty of freedom, walks through nature, our bond with the land and animals, the importance of outdoor activities, enjoyment the sun, the sound of the ocean, the touch of sand on our feet, the smell of grass after a rainy day.
Things, sensations that we once considered minuscule, are now part of our wishes and desires.
Some call it the "Pandemic of loneliness", since we were forced to move away from everything we like, from the companies that made our lives more enjoyable and fun, full of life and emotion.
But what do we win at the same time?
With all the bad, the good comes. Despite suffering, insomnia, loss of relationships, we also gain a sense of productivity, personal care, and above all, appreciation.
After experiencing that kind of confinement, we understand more than ever that what is outside day by day, nature, open spaces, are of equal or greater importance than what we have inside. Distracted with technology, we forget the relevance of nature, how good it feels to breathe the pure air away from the city, the peace and calm that the vegetation offers us has no comparison. We once again gave it the relevance that the land that welcomes us deserves and we learned to measure time, which on many occasions stopped us during the confinement.
Now that we can enjoy safer environments, with the necessary precautionary measures, and with fewer restrictions, let's take advantage of returning the favor to the earth. With sustainable and ecological fashion we can choose to feel comfortable, confident and using natural and unique styles without contributing to the deterioration of our new reality.
Reducing the consumption of plastic, chemicals and pollutants through natural, biodegradable and comfortable options such as our Root wooden Sunglasses or our ecological watches manufactured in a sustainable way.
Root natural and ecological wood products are specially made and designed by hand to be light, comfortable and flexible, made with the best quality wood, color and style of your choice, these glasses and watches will accompany you on your outings and meetings. as the best fashionista accessory for your look. You will be able to measure and see the time of your stay in nature contributing your grain of sand for its better conservation.
After experiencing the pandemic, the context is clear, we were able to observe that the key to protecting our land is to contribute to its health.
That is why we give you a series of examples of sunglasses and natural wood watches that will complement your quality time with your loved ones while contributing to a vision in tune with the environment and your health.
BLACK STEEL OAK WOOD WATCH - 38MM
The Trime watch is designed with a 38mm black stainless steel case, in turn combined with the best quality oak wood ring, it has a minimalist black dial, especially for those who love to find beauty in simplicity, with black and white needles visible in the dark, its strap is made of black leather and its clasp is made of stainless steel.
BLACK STEEL AND EBONY WOOD WATCH- 48MM
The Black Elegance watch is everything that its name tells us, elegance, modernism and sport, this watch designed with a stainless steel case and combined with natural ebony wood is special for those desiring a stronger but more elegant look, moving away from the classic, this watch offers an air of naturalness and power.
Its black stainless steel case is accompanied by a biodegradable natural ebony wood ring, gray striped sport dial and reflective black hands in the dark.
NILIA OAK AND WALNUT WOOD SUNGLASSES
Made in a combination of two woods, black walnut on the frame and oak on the outer rim of the frame and temples. The latter are finished in tortoiseshell acetate with an internal rod which allows them to be adjusted if necessary. It is a rounded model with its own personality with a very careful finish.
PAUL EBONY WOOD SUNGLASSES
Made of a combination of two woods, EBONY on the eyebrow of the frame and on the outside of the temples and Black Walnut on the rest of the frame and on the inside of the temples. The latter are finished in tortoiseshell acetate with an internal rod which allows them to be adjusted if necessary. It is a model with its own personality and a very careful finish that will surprise you with its originality and the combination of woods.
These wooden watches and glasses are ideal to be part of all our outdoor adventures, they give us personality and utility at the same time.
Made for your enjoyment, either personally or as a gift, Root wooden watches and glasses will always give us the security of being on time and in sync with all our commitments without damaging what we love most.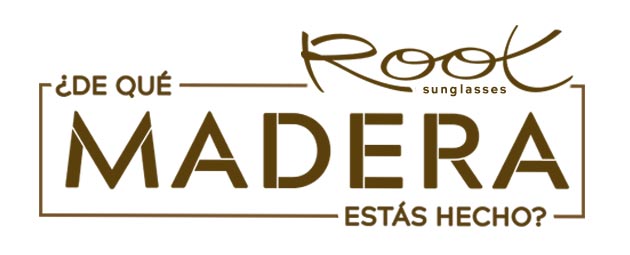 Root Sunglasses & Watches
C / Bailén 44, 11380 Tarifa - Cádiz spain
Phone +34 956680448
Puntúa el contenido de esta entrada