The best wood details for you
For those who love wood, sustainable fashion, good taste and the details that make every gift special, we have the best trend of the moment: a natural, sustainable product, useful in everyday life and customizable with a unique message.
Our wooden watches , produced with sustainable materials, provide us not only with a valuable product and resource from day to day, but also the precious and colorful detail of personalizing them with a message or a unique image for you and your gift.
Thanks to the personalization of a beautiful and durable common object such as our wooden watches, the personalization of it gives us what we most yearn for in a special detail. It allows us to remember all the beauty of a moment, perhaps a phrase, a gesture, a memory, through a recorded message, a symbol, or an image.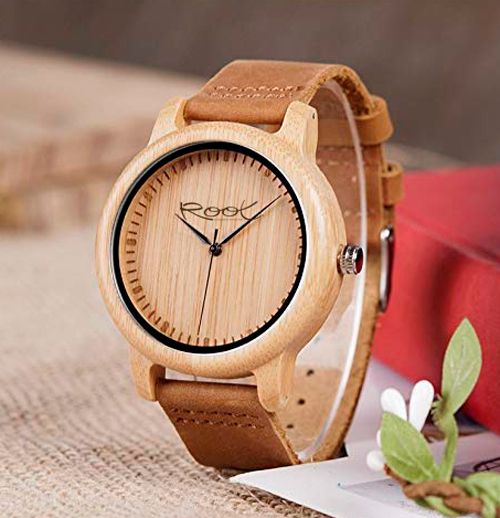 Root Watches gives us the opportunity to personalize watches in the best way, giving us a super wide range of options in styles, colors, smells, design, and above all, the choice of wood, which in my opinion is the best part. For those who love sustainable fashion, the woods used in the Root Watches are completely ecological. Selected and used exclusively for the creation of these beautiful watches without interfering with the environment, these watches end up being the best option on the market not only for daily use, but for a gift, which is productive, useful, beautiful, stylish, friendly with the atmosphere and staff.
How do we make it personal? Simple, thanks to the high quality wood used in these watches that allow us to engrave on them we can turn a simple watch into our brand and personal stamp.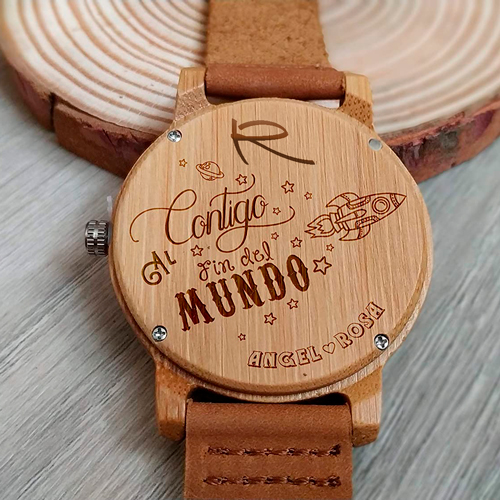 Root watches allows us to record what comes to our imagination and mind in these watches, either for ourselves, as a motivational phrase, something that allows us to continue in the best mood every day, the recording of our initials, perhaps just to identify it or feel that it really belongs to us or in the best of cases, as a dedication for that special person.
We'll show you some sublime examples of the best way to personalize that special gift for the right person:
Romantic phrases :
"My heart chose to love you and my soul followed her complacent."
"I will always be for you".
"You fill my heart like butterflies fill the skies."
"Look at me always, and you will know that I am next to you."
These types of romantic phrases are just one iota of the phrases and dedications that you could engrave on that special gift for that person who deserves the world and more.
Thanks to these engravings we not only allow ourselves to express emotions, feelings, deep values, but also to demonstrate them through a tangible object perfect for daily use that which we feel in the depths of our being and that perhaps does not come out easily with our own words. With this option we can evoke our deepest desire and externalize it for that person we yearn for, the watch being an object of personal use, becomes a kind of special connection, since the person to whom we dedicate it, would take us with him forever.
There is something definitely special, in the feeling of having someone by our side forever. A feeling that perhaps escapes the physical plane on many occasions, but can be achieved through gifts as subtle and unique as these.
But what if you don't have a romantic interest?
Is it possible to leave a message of love for the friends we cherish the most?
And the answer will always be Yes! and here we show you how:
Phrases for our dearest friends:
"I will always accompany you, even from a distance."
"The most beautiful things in life are not objects, but people like you."
"In time we will meet again."
And more! Some of my favorite phrases to dedicate to our friends are entirely linked to our favorite tastes, such as series, movies, music, here is an example of what I would say to my best friend ...
"May the Force be with you!"
It's hinting at our fanaticism for Sci-Fi and Star Wars!
Not only could we make use of iconic phrases from popular culture, but we could also implement drawing designs in reference to them. What if I want a Baby Yoda on my watch? What you ask for, you get!
Personalization has no limits (as long as it fits the desired wristwatch size) and neither does our imagination.
We can also leave our personal mark on said object. Making the watch more unique and proper than anything else!
From the initials, to the singular drawing of something with which we feel identified, it can turn a common object into something exclusive and appreciated. We may not be confident enough to engrave something on our body, such as a tattoo, but a viable option to reflect our tastes and something we love is to engrave it not on our skin, but something close to it, our wristwatch.
Allowing us to be in tune with our environment and with trends, we can convert what we want to our liking and whim, without feeling guilty about its consumption, we obtain utility and sustainability in a single package.
Leave your personal mark on our watches, feel identified and fashionable, personalize without limits and return something common to the most unique in the world.
Ready to gift and ready to use!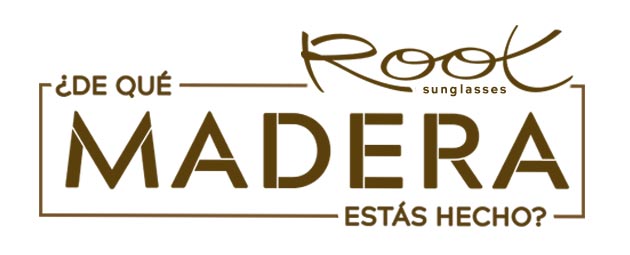 Root Sunglasses & Watches
C / Bailén 44, 11380 Tarifa - Cádiz Spain
Phone +34 956680448
Puntúa el contenido de esta entrada