Wood and Steel Watches
Unique, special and distinctive: this is a watch made of wood and steel.
Unique: no wood used, even if they come from the same species, will keep the same grain.
Distinctive: because your values, especially the environment, will be reflected on your wrist under a prism of elegance.
Sustainable: the use of the materials used, in their entirety, are absolutely reusable and recyclable. Among them, stainless steel.
A material that in Root we have, along with wood, in high esteem for the realization of our watches. Above all, for the following reasons:
It is the most recycled metal in the world and the one that requires the least energy when refining, purifying or remodeling.
Its resistance, even being recycled, always remains the same even if it is recycled unlimitedly.
Its long useful life and its own natural protective layer, prevents corrosion and wear over time.
Steel has been used in watchmaking for many years, more than a hundred, mainly for its durability and profitability for the buyer; allows it to be polished over time, making it like new again.
A detail, also remarkable, is its adaptation to the aquatic environment; You should not worry because if the box is made of steel, it remains intact up to three meters deep. Goodbye to not worrying about the clock on the beach!
From Root we did not want to miss the use of stainless steel in our catalog of eco-sustainable watches because its benefits, from extraction to parts production, are totally beneficial for the environment.
Therefore, you can find it both in the clasps of the watch, a very delicate part due to its daily wear, some of the numbering and types of needles.
We always innovate to adapt to your needs, so we seek your foray into watch cases and straps as well. It all depends on the selected model and to discover it… I encourage you to take a look at the extensive catalog !
You will find a perfect combination of stainless steel with the wide variety of premium woods that we have, such as sandalwood, ebony or oak.
The harmonious compositions of these elements perfectly elevate the design of a sustainable, unique and distinctive eco watch. Now do you understand what makes Root different?
In summary…
Wood + stainless steel = perfection, durability and sustainable respect, in a wristwatch
A few years ago it was unthinkable, but today it is a reality.
Why are we so sure about it?
Because this is how we believe that the watchmaking of the future should be: respectful with the environment, with your skin, during the manufacturing processes and, above all, that they can become the most eco-sustainable change. The time will come when they will not be an option, but a necessary reality.
At Root we have always wanted to offer variety in the type of wood to select for each personal taste: we know that the intensity of ebony is not the same with the freshness of bamboo.
As our motto recites: what wood are you made of?
Well, it all depends on our personality, right? Or at least that is how we usually select the accessories that will be part of our daily life.
Finding the harmony between stainless steel and wood in the same wristwatch has always been our great difference and exclusivity: turning both elements into a single 100% sustainable piece.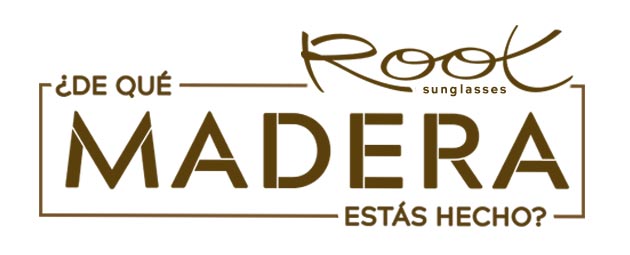 Root Sunglasses & Watches
C / Bailén 44, 11380 Tarifa - Cádiz Spain
Phone +34 956680448
Puntúa el contenido de esta entrada