Sustainable gifts for Christmas 2019 (and those that come ...)
Christmas smells like something different, we don't know exactly what, but it has distinctive features that make it one of the most anticipated times of the year.
This may have to do not only with the opportunity to share with family and friends , but with the opportunity to give and receive gifts.
It is that having a package for you that you can only open on Christmas Day gives a particular emotion to these holidays.
Of course, there are times when expectation and joy become disappointment.
Yes, you read our mind because just when you look at the package that has a card with your name, you notice that something is wrong.
You, in an effort to turn a blind eye, remove the paper that covers it and open the gift, all to discover that what they gave you is a pair of socks, a set of handkerchiefs or underwear.
That's when you discover an unknown talent to hide with a dull "Graciiiiiassss".
So that this does not happen again to you or to those who receive your gifts , we leave you a list of suggestions that will take more than one " Ohhhhhh" on Christmas Eve or the morning of the Magi.
Tinted bamboo and zebra wooden glasses - Sans
Bamboo is not just for pandas (although we have to accept that they are the only ones worth seeing when they eat it).
This plant is ideal for manufacturing various items for several fundamental reasons:
It's very tough
It is biodegradable
it is fast growing
That is why the SANS mount is farbicada in this special wood.
And besides, some of us in a creative outburst came up with the brilliant idea of covering them with newspaper pages , so each model is different because each one is made with different pieces of text.
We do not guarantee that whoever has them will read more, but it will look very elegant original and different.
A kind of Clark Kent with cool glasses or a Jennifer Anniston in Follow Me Roll.
On the inside of the temples they have a natural finish with the classic Zebrano wood veins that resemble those of zebras.
Of course they mount polarized lenses made of TAC (degradable BIO Cellulose Triacetate), with a hydrophobic cover so that the drops of water do not ruin your vision.
They weigh only 25 grams, so they get carried away comfortably.
Kauai ebony wood glasses
Link: https://www.rootsunglasses.com/es/gafa/kauai
There are those who love round glasses.
For them there are KAUAI sunglasses with thin steel pins finished in a very special wood such as ebony wood.
To understand this hobby (if not falling in love), let's see why they are so requested lately.
Because they soften the face. In other words, they make you look kinder. And that is something that opens doors and generates better relationships. The more rigid your expressions are, the harder it will be to relate to others and make them trust you.
They favor triangular faces. Although this does not happen in the same proportion as with square faces, it is notorious as a face with these characteristics tends to balance if the glasses are round.
Everyone looks good. It may seem like a bluff, but no. It is proven that the Kauai fit almost anyone, if you are round glasses with this model you will simply be right.
As for its finish, no glasses are identical to the other because each piece of wood is different.
In addition, they are very light (28 grams) and have a metal spring as a hardware for you to adapt to your physiognomy.
Why give watches at Christmas?
Giving a good watch is a symbolic gesture that you can take advantage of in your favor. More if you do it at Christmas time.
"But how?" You may be wondering
In some Asian countries, for example, when a boy gives a girl a wristwatch, it means that he wants to spend every second and minute of his life with her.
Tender, isn't it?
And this does not have to apply only to couples, but you can also do it to express to your loved ones how much you value the time you spend with them.
You can also take the opportunity to write a dedication in which you tell them how important it is for you to spend more time together.
If you have doubts, then we share two options that cheer the Christmas spirit up to the Grinch.
And that is enough.
NADINA steel gr wood skateboard watch - 38mm
They are 38 mm in diameter in a beautiful hoop with wooden skateboard design.
It is waterproof and its black and white needles are also visible in the dark.
The strap is made of brown leather, which is very soft to the touch and easy to preserve.
Its weight is 45 grams, so carrying it all day is not something you feel.
One of the elements that stand out in this beauty is the recycled wooden box in which they come. She, by herself, is already a gift;)
Of course, the box can be reused in another gift and thus increase the value of its meaning.
LISA watch black wood rosewood - 38mm
Black goes well with everything: it is elegant and looks good day or night.
That is why the LISA watch is one of the most requested at any time of the year, whether Christmas or not.
Its structure is made of stainless steel and is topped with a rosewood ring.
Its strap is dark brown leather and having it around your wrist is more than an opportunity to see the time, an enjoyment.
Like all our watches, it comes in a special recycled box that is also handmade, which is felt and perceived when you look at the care of its details.
I send a cordial greeting
Iñaki Olazagoitia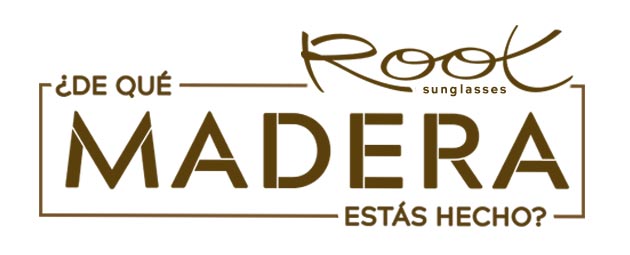 Root Sunglasses & Watches
C / Bailén 44, 11380 Tarifa - Cádiz Spain
Tel +34 956 680 448
Puntúa el contenido de esta entrada