AFTER-SALES SERVICE
REPAIR AND RECYCLING OF WOOD ROOT PRODUCTS
From now on, before one of our clients like you acquires one of our sunglasses or one of our natural wood watches , in Root Sunglasses & Watches as a brand, we acquire a commitment so that that client feels not only identified with our values in terms of ecology, respect for the environment or sustainability, as a responsible brand from Root we do everything possible so that one of our customers can enjoy our product in optimal conditions for as long as possible. That's why, since we were born as a brand, almost 7 years ago, one of our priorities has been and is to offer an after-sales service agile, dynamic, centralized and high quality that responds to all the incidents that each of our customers may have with any of our products independent of the trade and the place or region where the customer has acquired our product.
WOOD ROOT PRODUCTS REPAIR SERVICE
All our customers have access to our technical repair service where we provide solutions to virtually any incident that may occur with any of our products, from the simplest to the most complex. For us the important thing is that you know that we are at your service with the goal that you enjoy your Root product as long as possible. Here are some examples of what we can do:
Repair of wooden frames
Repair and / or replacement of wooden pins
Change of lenses
Sending parts as screws or pads
Replacement of fittings
Repair of watch machineries
Replacement of watchmaking machinery
Repair and / or change of boxes and covers in watches
Replacement and adjustment of belts
In addition to a commitment to OUR CUSTOMERS , we also have a commitment to ENVIRONMENT the sustainability and RECYCLED . As a company aware of these premises, we want to apply them not only in the manufacture of our products or in packaging or other elements thereof, but also in the relationship created with the final customer of all our products, promoting and rewarding the recycling of the same.
We want to make use of the still serviceable parts of a Root product that is badly damaged by use and that is NOT repairable and that's why our business philosophy includes RECYCLING PLANS for which we offer you GREAT DISCOUNTS for the purchase of new products in exchange. of deteriorated products that can not be repaired.
RECYCLING WOOD ROOT PRODUCTS
As we mentioned in the previous paragraph, our goal is that you enjoy your Root product in optimal conditions as long as possible, so we will always try to provide a repair solution for incidents or unfortunate accidents that you may suffer, but when we see that a repair is unfeasible because the result does not meet our quality standards we will offer you one of our RECYCLING PLANS.
The objective of the ROOT RECYCLING PLANS is double. On the one hand we will give a second life to the still serviceable pieces of your irreparable product, with which we contribute our bit to have a cleaner world avoiding a new production of those pieces and adapting them to new products. And on the other hand, as a customer you can buy a new ROOT product that you choose freely with DISCOUNTS of up to 60% on the PVP of our website.
In other words if when you contact us for a damaged product, we see its repair unfeasible we will propose you to keep it in exchange for a DISCOUNT for the purchase of a new product from our online store and in this way we will give you a solution to a problem with difficult solution and at the same time we will help in the conservation of the environment by recycling what we can of the delivered product.
HOW TO CONTACT ROOT'S AFTER-SALES SERVICE
Contacting our after-sales service is simple. Send us an email to servicio@rootsunglasses.com describing the problem with your product. It is very important that you attach some images to the mail where we can clearly see the problem with it in order to offer you a fast and efficient service.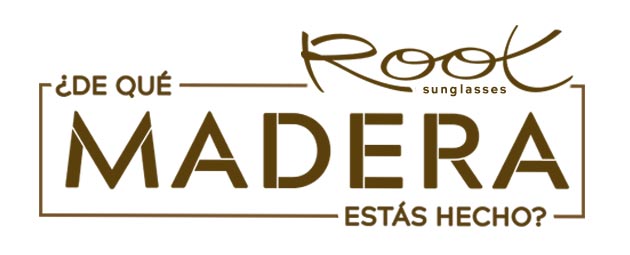 Root Sunglasses & Watches
C / Bailén 44, 11380 tarifa - Cádiz spain
Tel +34 956680448
Puntúa el contenido de esta entrada